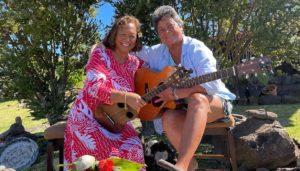 ALOHA in all its forms is…….
Each Breath, Each Moment, Each Experience that teaches us to embrace what is…as we surrender inside to the authentic Trust of Hope, Joy, Peace and Possibilities.
As we embrace each moment in Aloha, the spirit of our collective universe combined with our intentions of creating a peaceful world unifies to disrupt the technical flow of roteness appropriated from cookie cutter conditioning that diminishes the potentiality of universes of Love expanding
We wish to feast in ALOHA
A pulse that navigates our "unknowing knowing", that can create change as we illuminate our spirit in the darkest corners of our hidden spaces of neglect, harm, vulnerability, judgment, and fear within.
When we Embody /Live ALOHA, we allow ourselves the magnificence to BE what is, Embrace what is, Love what is……….ALOHA from "the inside out"
THE TRINITY – ALOHA IN ACTION – HONORING ALL LIFE
3 New Moon ON LINE Experiences with Lei'ohu Ryder and Maydeen 'Īao
February, 11 – 1st Completed Session VIEW HERE
Saturday, March 13 – 2nd Completed Session VIEW HERE
Sunday, April 11 – Final Session THIS SUNDAY
9:00am Maui / Hawaii Time
Noon Pacific / 3:00pm Eastern / 8:00pm GMT / 9:00pm CET / Japan Time 4:00am Monday April 12
JOIN LIVE or watch later on the Lei'ohu Ryder Music YouTube Channel
Suggested Donations from $5 – $150 No One Turned Away
Your generous, greatly appreciated donations go to fund, support the out reach programs / activities/ projects of Aloha in Action a nonprofit 501c3 organization based in Maui, Hawaii.
Come join us, in Honoring All Life, at this very special final New Moon ONLINE gathering with Aunty Lei'ohu , Aunty Maydeen and "The Trinity" III